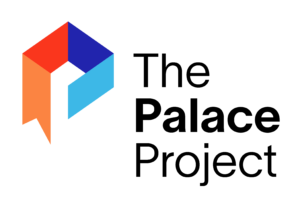 On behalf of the entire Lyrasis staff and community, we would like to congratulate Michele Kimpton, Global Senior Director of The Palace Project, on her upcoming retirement, beginning June 30, 2023. Michele joined Lyrasis in June, 2021 to lead The Palace Project, an open source eBook platform and service. Luckily for Lyrasis, however, The Palace Project was not the first time she played a major role for the organization. Beginning in 2016, Michele acted as a Strategic Consultant, working closely with the CEO, the Leadership Team and key partner organizations to help Lyrasis build new technical services and integrate new community-supported programs and technologies, all of which are vital to the members and organizations we serve today.
Michele is a globally recognized leader in building communities and products in libraries, and has long been a leader at advancing digital content access and preservation. Prior to, and in between, working with Lyrasis, during her 25 years in the field, Michele served as CEO of DuraSpace, as Senior Business Development Director and Strategist at Digital Public Library of America (DPLA), and as Director of Web Archiving at Internet Archive. Throughout her career, Michele has been an innovator and a champion for open technologies, leading organizations to provide cloud-based open source solutions like Archive-it, DuraCloud, D-Space Direct and most recently The Palace Project.  In 2013, she was named a Digital Preservation Pioneer by the Library of Congress. Michele is a founding member of both the National Digital Strategic Alliance and the International Internet Preservation Consortium. 
Since its launch in 2021 and under Michele's stewardship, The Palace Project has grown to nearly 500 libraries in 18 states plus American Samoa and Canada. This momentum will continue under the leadership of Michael Atwood, the new Senior Director of ebooks and Community Engagement at Lyrasis. Lyrasis and its partners supporting The Palace Project are excited to continue deepening the value of The Palace Project and its potential to put libraries at the center of their communities. 
Those of you who know Michele know that she very much looks forward to spending more time running, biking, hiking and skiing with her family, as well as continuing her work with adaptive athletes, assisting them in doing the things they love in the great outdoors. She will be missed by her friends and colleagues at work and beyond. Thank you, Michele. 
If you are a current or potential Palace library and would like to meet with Michael Atwood to discuss this transition, reach out anytime via email at Michael.Atwood@lyrasis.org.